The Chocolate Chip Cookie is America's most famous cookie. It was invented in 1930 by Ruth Wakefield, who was the owner of the Toll House Inn in Massachusetts. The story goes that one day she decided to add small chunks of a Nestle's Semisweet Yellow Label Chocolate bar to her butter cookie dough. These 'chocolate chip' cookies were an instant hit with her customers and word of their popularity reached the Nestle company. Nestle must have realized that adding small chunks of their chocolate bar to cookie dough would appeal to the mass market because by 1939 Nestle had already developed, and was selling, small chocolate morsels (or chips) in a yellow bag. Nestle then went on to buy the rights to the Toll House name and to Ruth Wakefield's 'chocolate chip' cookie recipe. They called her recipe "The Famous Toll House Cookie" and printed it on the back of the Yellow bag of chocolate chips.
This Chocolate Chip Cookie recipe is very similar to the recipe on the back of the bag of Nestle's Chocolate Chips and my kids never seem to tire of them. Made with unsalted butter and a combination of white and brown sugars, it produces a rich and chewy cookie with caramelized edges. Although flour, sugar (white and/or brown), butter or margarine, baking powder and/or baking soda, eggs, vanilla, and chocolate chips make up a chocolate chip cookie recipe, taste and texture do vary by recipe. So if you want to try another type of chocolate chip cookie I have included a recipe for Chocolate Chunk Cookies.
Chocolate Chip Cookies: Preheat oven to 375 degrees F (190 degrees C) with rack in center of oven. Line two baking sheets with parchment paper.
In the bowl of your electric mixer (or with a hand mixer), beat the butter until smooth and creamy. Add the white and brown sugars and beat until fluffy (about 2 minutes). Beat in eggs, one at a time, making sure to beat well after each addition. Add the vanilla and beat until incorporated. Scrape down the sides of the bowl as needed.
In a separate bowl, combine flour, baking soda, and salt. Add the dry ingredients to the egg mixture and beat until incorporated, adding the chocolate chips and nuts (if using) about half way through mixing. If you find the dough very soft, cover and refrigerate until firm (from 30 minutes to two hours).
For large cookies, use about a 2 tablespoon ice cream scoop or with two spoons, drop about 2 tablespoons of dough (35 grams) onto the prepared baking sheets. Bake about 10 –14 minutes, or until golden brown around the edges. Cool completely on wire rack.
Makes about 4 dozen – 3 inch round cookies.
Note: You can freeze this dough. Form the dough into balls and place on a parchment lined baking sheet. Freeze and then place the balls of dough in a plastic bag, seal, and freeze. When baking, simply place the frozen balls of dough on a baking sheet and bake as directed – may have to increase baking time a few minutes.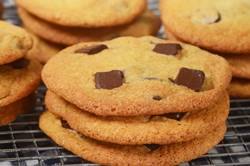 Chocolate Chip Cookies Recipe:
1 cup (2 sticks) (226 grams) unsalted butter,room temperature
3/4 cup (150 grams) granulated white sugar
3/4 cup (160 grams) firmly packed light brown sugar
2 large eggs
1 1/2 teaspoons pure vanilla extract
2 1/4 cups (295 grams) all-purpose flour
1 tea spoon baking soda
1/2 teaspoon salt
1 1/2 cups (270 grams) semisweet chocolate chips
1 cup (100 grams) walnuts or pecans, coarsely chopped (optional)
.