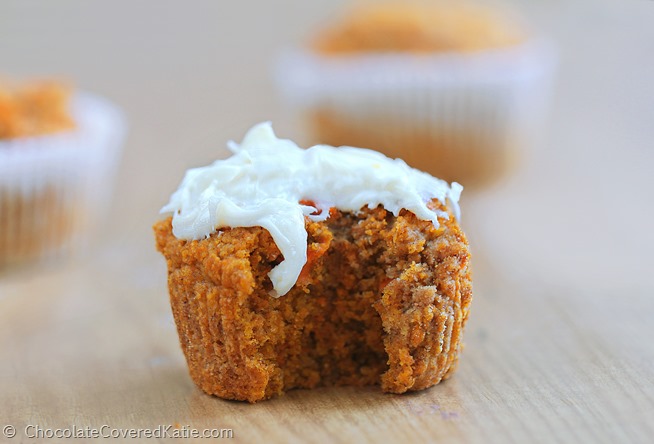 Healthy Carrot Cake Cupcakes
♥ They can be sugar-free / gluten-free / high-fiber / with 74% of your daily Vitamin A!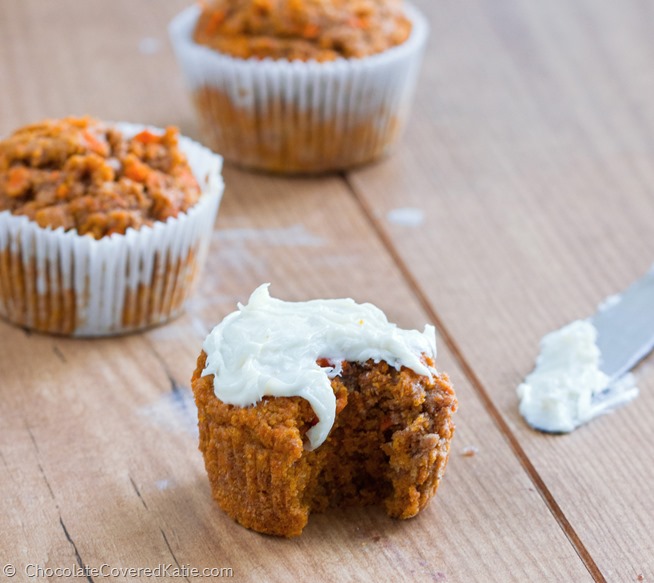 Who doesn't love carrot cake?!
But while traditional carrot cake may seem healthy (it's made with a vegetable!), it is secretly full of so much sugar, fat, and empty calories that you might as well be eating a Snickers bar. These soft and moist carrot cake cupcakes offer you the best of both worlds—decadent enough for dessert, yet healthy enough that you could eat them for breakfast if you so desired.
Make them even healthier by icing them with Homemade Greek Yogurt Frosting.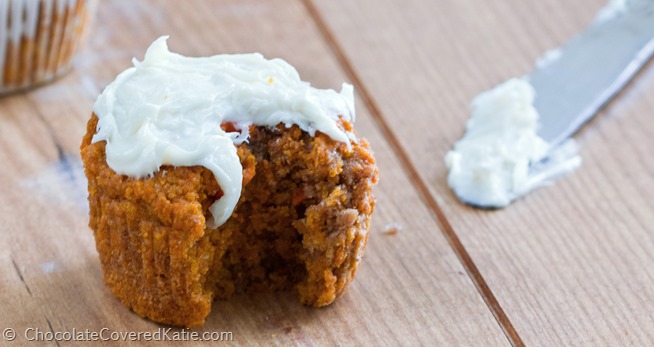 Healthy Carrot Cake Cupcakes
(makes 9 large)
1 1/2 cups spelt, white, or Bob's gf flour (180g)
1/2 tsp baking soda
3/4 tsp salt
1 tsp cinnamon
1/3 cup sugar, xylitol, or evaporated cane juice (65g)
1/16 tsp uncut stevia OR 2 tbsp more sugar
optional 1/2 cup raisins (80g)
1/2 cup applesauce (120g)
1/3 cup coconut or veg oil (Replace with more applesauce only if you don't mind a dense texture) (60g)
2 tsp white or apple cider vinegar (10g)
2 tsp pure vanilla extract (8g)
1 packed cup shredded carrot (200g)
Preheat oven to 350F and place 9 cupcake liners in a muffin tin. Combine all dry ingredients in a mixing bowl, then set aside. In a large measuring cup, combine all liquid ingredients (including carrot). Mix wet ingredients into dry, and immediately portion into the baking cups and place in the oven. Bake 19 minutes, then allow the healthy carrot cake cupcakes to cool before removing from the tray. These healthy and vegan carrot cake cupcakes are soy-free and can be gluten-free and sugar-free. Top them with the frosting recipe linked above or with the healthy cream cheese frosting recipe in the Chocolate-Covered Katie Cookbook.
View Carrot Cake Cupcakes Nutrition Facts